Transform Your Outdoor Space: The Ultimate Guide to Landscaping Costs
Are you dreaming of a stunning outdoor oasis but worried about the cost of landscaping? Don't let uncertainty hold you back! With a little bit of knowledge, you can budget effectively for your project.
The cost of landscaping varies depending on several factors, including the size and complexity of the project, materials used, and labor costs. But don't worry - we've got you covered. Read on to learn how to accurately estimate the cost of your landscaping project.
First, consider the size and complexity of your project. Consider any existing structures that need to be incorporated into your design, such as a pool or patio. If the area is large and requires significant groundwork, like grading or retaining walls, it can also increase the overall cost.
Next, the type of materials you choose can greatly impact the cost. Using high-end materials like natural stone or plants will increase the cost compared to using more basic options. Also, certain plants may require special soil preparation or extra care, resulting in additional costs.
Finally, labor costs can significantly affect the overall cost of your project. Be sure to consider any special equipment or multiple components that may need to be installed.
By taking these factors into account, you'll have a better idea of what your landscaping project will cost. Transform your outdoor space into a beautiful oasis with an accurate budget and a little bit of creativity. Get started today!
Selecting the Right Landscape Company in Dubai for Your Project: A Comprehensive Guide
Choosing the right landscaper for your project can be a daunting task. To ensure a successful outcome, it is crucial to conduct thorough research and carefully consider the design and implementation aspects of your project. Follow these steps to choose the right landscape company in Dubai:
Begin by examining local landscaping companies in your area. Evaluate their portfolio of completed projects and assess their track record of customer service. This information can be obtained from client reviews and testimonials, as well as through personal referrals.
Consider the specific type of project you wish to undertake and whether the landscape company has experience in that area. Many landscaping professionals specialize in specific aspects of the industry, so it's crucial to find a company with expertise in the specific services you require.
Verify that the landscape company is qualified to work on your project. Confirm that they are properly insured and have all the necessary licenses from relevant agencies.
LANDSCAPE COMPANY DUBAI - EXPERTISE ACCORDING TO STRUCTURE
RESIDENTIAL LANDSCAPE
We can assist you in properly planning your residential landscaping project so that you get the most bang for your buck. We create bespoke packages based on your needs and budget. As the top landscape company Dubai, We can help you whether you wish to revamp the space or need landscaping work from the ground up. Our in-house design team will leave no stone unturned in creating a landscape that is both attractive and maintainable for you. Antonovich Group is the best landscape company in Dubai that will assist you in completing your residential landscaping project at whatever stage you are at by utilizing fantastic concepts.
COMMERCIAL LANDSCAPE
We build, install, and maintain established lawns, patios, gardens, trees, yards, bushes, connected grounds, and other outdoor areas as part of our business landscaping services. Being the most trusted landscape company Dubai, manage weeds, promotes healthy plant development, and keeps hedges in good shape, all of which contribute to the beauty of business spaces. The top landscape company Dubai for commercial landscaping is then polished, sensitive, and friendly, showcasing our client's current trends, lifestyle, style, and aura. As the most reliable landscape company in Dubai, we have trained professionals in regular mowing, seasonal plantings, mulch application, weeding and trimming, fertilizer, and integrated pest management.
SWIMMING POOLS AND OTHER WATER FEATURES
The sturdy concrete work, pavement, dazzling tiles, attractive structures, and bewitching appearance of your opulent swimming pool will undoubtedly earn you many compliments for choosing the top swimming pool design and building specialists in Dubai. The best landscape company in Dubai, Antonovich Group, specializes in meeting the various requirements of our high-profile clientele in Dubai. We give the 3D plan and design to you. We believe in excellence and will provide you with a swimming pool that meets your changing demands.
The best landscape company Dubai – Antonovich Group, offers the best service including pool building, pool filtering, and pool water flow systems. The service also includes the provision of quality-tested equipment and materials for construction, maintenance, and modification. Our professionals offer consultation designs, generate designs, and implement them in accordance with industry standards.
LUXURY ANTONOVICH DESIGN: BEST LANDSCAPE CONTRACTOR IN DUBAI
Luxury Antonovich Design is the most trusted landscape company in Dubai that always manages to bring out all the best and strategic procedures to be able to meet every standard and requirement of the project.
Having its in-house best Landscape Architect & Designers in Dubai, Luxury Antonovich Design is very well known as the top landscape company that offers custom landscape service, not only in the city but all over the UAE and its neighboring countries in the Middle East.
By bringing out the best landscape design in UAE, Luxury Antonovich Design is continuously being acknowledged as the best landscape contractor in Dubai, which is providing its expert services and design executions for every garden design in Dubai. There are many Swimming pools and landscape companies in Dubai, but only a few have the full ability to execute the finest solutions with a very concrete design result.
Landscape Services by Antonovich Group: A Tradition of Artistry and Sustainability
Nature has always been a source of inspiration for artists and designers. The beauty and complexity of natural landscapes have captivated human creativity since ancient times. In the modern era, landscape design has become a multidisciplinary field that combines art, science, and technology to create functional and aesthetically pleasing outdoor spaces.
Antonovich Group is a leading company in the landscape design industry, known for its exceptional artisanship and commitment to sustainability. Their team of experienced landscape designers, surveyors, and artisans works closely with clients to create unique and personalized design projects that blend harmoniously with the natural environment. The scope of landscape design includes a wide range of elements, from hardscape features such as paths, walls, and outdoor structures to softscape elements like plants, trees, and water features. Master landscape planning involves a thorough understanding of the site's topography, climate, soil sustainability, and other factors that affect the design process.
Antonovich Group's landscape designers are experts in surveying and analyzing the site's conditions to develop a comprehensive design plan that meets the client's requirements and budget. They pay close attention to every detail, from the selection of materials to the composition of colors, textures, and shapes, to create a coherent and visually appealing landscape. The company's specialties include hardscape design, which involves the use of hard materials such as concrete, stone, and wood to create durable and functional outdoor spaces. They also excel in softscape design, which focuses on the selection and arrangement of plants and other organic elements to create a natural and dynamic landscape.
Landscape Design Solution by Antonovich Group: Combining Artisanship, Finesse, and Site Involvement for Emphasized Outdoor Spaces
A well-designed landscape can transform a simple yard into an exquisite outdoor living area. It's not just about planting trees and flowers, but it's also about creating an atmosphere that is both functional and aesthetically pleasing. For this reason, landscape designers are in demand, and the Antonovich Group is one of the best in the industry.
The Antonovich Group prides itself on its artisanship, finesse, and attention to detail in every project they undertake. Their team of professionals, from architects to horticulturists, bring their expertise to every project. They combine their knowledge of plants, hardscape materials, and architecture to create outdoor spaces that are both beautiful and functional.
Emphasis on Site Involvement
The Antonovich Group's approach to landscape design is unique in that they emphasize site involvement. They believe that every site is different, and they work closely with clients to understand their needs, preferences, and the site's unique characteristics. They take into consideration the soil, topography, climate, and other environmental factors that may affect the design.
Another key factor in their success is delegation. They recognize the importance of having a team that is made up of individuals with different skill sets. Each member of the team has a specific role, and they work together to create a cohesive design.
Landscape design is the art and science of creating beautiful and functional outdoor spaces. It is a multi-disciplinary field that involves elements of architecture, engineering, horticulture, and ecology. Antonovich Group is a leading landscape design firm that offers a wide range of services to clients around the world. In this blog, we will explore the education and licensing requirements for landscape designers, the design approach of Antonovich Group, and some of the factors that influence the landscape design process.
Landscape designers typically have a degree in landscape architecture or a related field such as horticulture or environmental design. In addition, most states require landscape architects to be licensed. The licensing process usually involves passing a rigorous exam that tests knowledge of design principles, plant materials, construction techniques, and building codes.
Antonovich Group uses a holistic design approach that considers the site, the client's needs and preferences, and the surrounding environment. This approach involves a thorough analysis of the site, including its topography, soil composition, microclimates, orientation, and site drainage. Antonovich Group also considers the local climate and weather patterns to ensure that the landscape design is sustainable and low-maintenance.
Antonovich Group takes inspiration from many sources, including historic gardens such as Stourhead in England. Stourhead is a landscaped garden that was created in the 18th century and is renowned for its naturalistic design and picturesque views. Antonovich Group incorporates elements of historic gardens into their designs, such as the use of water features, garden rooms, and focal points.
The landscape design process typically involves several phases, including site analysis, schematic design, design development, and construction documentation. During the site analysis phase, Antonovich Group evaluates the site's existing conditions, including the topography, vegetation, and soil. They also identify any potential design challenges, such as site drainage or groundwater recharge issues.
Once the site analysis is complete, Antonovich Group develops ideas and design factors that will inform the design. These factors may include the client's preferences, the site's orientation, the local climate, and the availability of plant materials. Antonovich Group also considers the site's microclimates, which are small-scale variations in temperature, humidity, and wind that can affect plant growth and comfort levels.
Antonovich Group strives to create landscapes that are functional, sustainable, and beautiful. They consider the qualities of the site, such as its texture, color, and form, and incorporate these qualities into the design. They also consider the site's ecological value and aim to create landscapes that are environmentally responsible.
Antonovich Group is also knowledgeable about building codes and regulations that govern landscape design. They ensure that their designs comply with these codes and regulations to ensure that the landscape is safe and meets local.
The Art of landscaping Design
Landscape design is an art that involves the creation of a beautiful outdoor environment that is not only aesthetically pleasing but also functional and safe for human use. At Antonovich Group, we provide landscape design services that incorporate several key factors, including human circulation, amenities, furnishings, native plant habitat botany, property safety considerations, genius loci, site qualities, perspectives, definition, scale, symmetry, plant palettes, points, design factors, well-functioning, landscapers, and plant site manipulation.
One of the critical factors in our landscape design process is human circulation. We carefully consider how people will move around the outdoor space to ensure that it is both accessible and functional. This includes designing pathways, steps, and other features that promote easy movement and circulation. Amenities and furnishings are also important considerations in our landscape design services. We work with our clients to identify their specific needs and preferences, such as outdoor seating, lighting, water features, and other amenities that can enhance the overall outdoor experience.
Incorporating native plant habitat botany is another critical aspect of our landscape design services. We carefully consider the specific plant species that are most suitable for the local climate and soil conditions, as well as their potential impact on the local ecosystem. This includes selecting plants that support local wildlife and promoting biodiversity.
Property safety considerations are also a top priority in our landscape design services. We ensure that our designs take into account potential hazards such as uneven terrain, steep slopes, and other potential risks to human safety. Genius loci and site qualities are also essential considerations in our landscape design process. We take into account the unique qualities of each site, including its topography, geology, and climate, to create a design that complements and enhances the natural features of the environment.
Perspectives and scale are also critical design factors that we consider in our landscape design services. We carefully select the appropriate plant palettes and design elements to create a cohesive and well-functioning outdoor environment that is both visually appealing and functional. Symmetry and plant site manipulation are also important design factors that we consider in our landscape designs. We use symmetry to create a sense of balance and harmony in the outdoor space, while plant site manipulation allows us to create focal points and highlight specific areas of the outdoor environment.
At Antonovich Group, we are committed to creating well-functioning, beautiful outdoor environments that are both aesthetically pleasing and functional. Our team of experienced landscapers works closely with our clients to understand their needs and preferences, and to create a design that meets their specific requirements. Landscape design services by Antonovich Group are carefully crafted to take into account all the critical design factors necessary for creating a beautiful, functional, and safe outdoor environment. From human circulation to plant site manipulation, our team of experienced designers and landscapers ensure that every aspect of the design is carefully considered to create a cohesive and well-functioning outdoor space.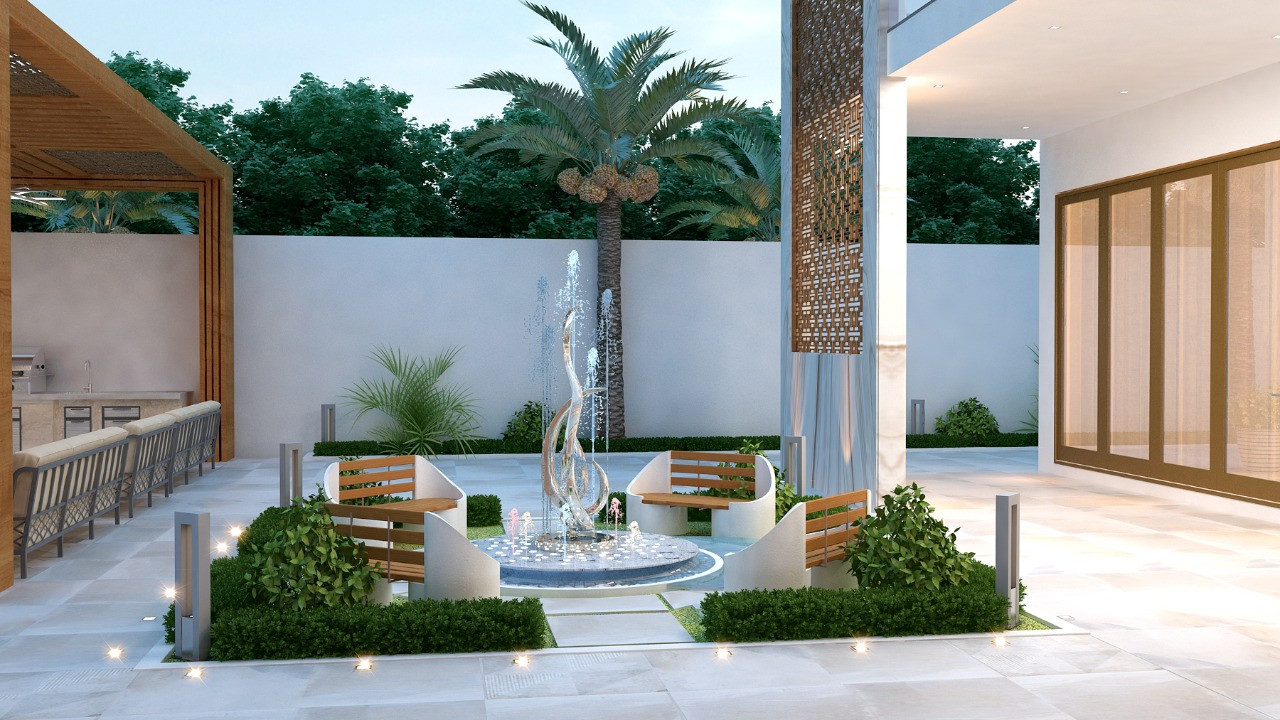 STAGES OF WORK TO ACHIEVE THE BEST LANDSCAPE DESIGN
Step 1: Conduct an on-site survey and explain your needs.
One of the most crucial components of our approach is site survey and planning; it is critical that we discover many key variables before we begin the Garden Design process. Well start by talking over what kind of garden you want, what features you want to incorporate, and what your budget limits are Because it is such an essential aspect of the design process.
Step 2: Create a Garden Design
Even the most imaginatively planned garden may be ruined by poor material selection. We can assist you in selecting materials that are appropriate for your needs, taking into account aesthetics, functionality, upkeep, and, of course, your budget.
It usually takes one week for us to create the design once we have assessed your garden. Well schedule an appointment to walk you through your garden after its been developed.
Step 3: The Installation Process
As the top landscape company in Dubai, We take pleasure in all of our work at Luxury Antonovich Design, and you can be certain that once your garden has been planned to your specifications and budgetary constraints, it will be constructed and implemented to the highest standards.
Our landscape architects and designers are thoroughly trained and skilled in all elements of landscaping, and our installation crews are made up of them. You can trust Luxury Antonovich Design to build your garden, whether its paving, planting, putting water features, or constructing a swimming pool. . "We never forget who is in charge!"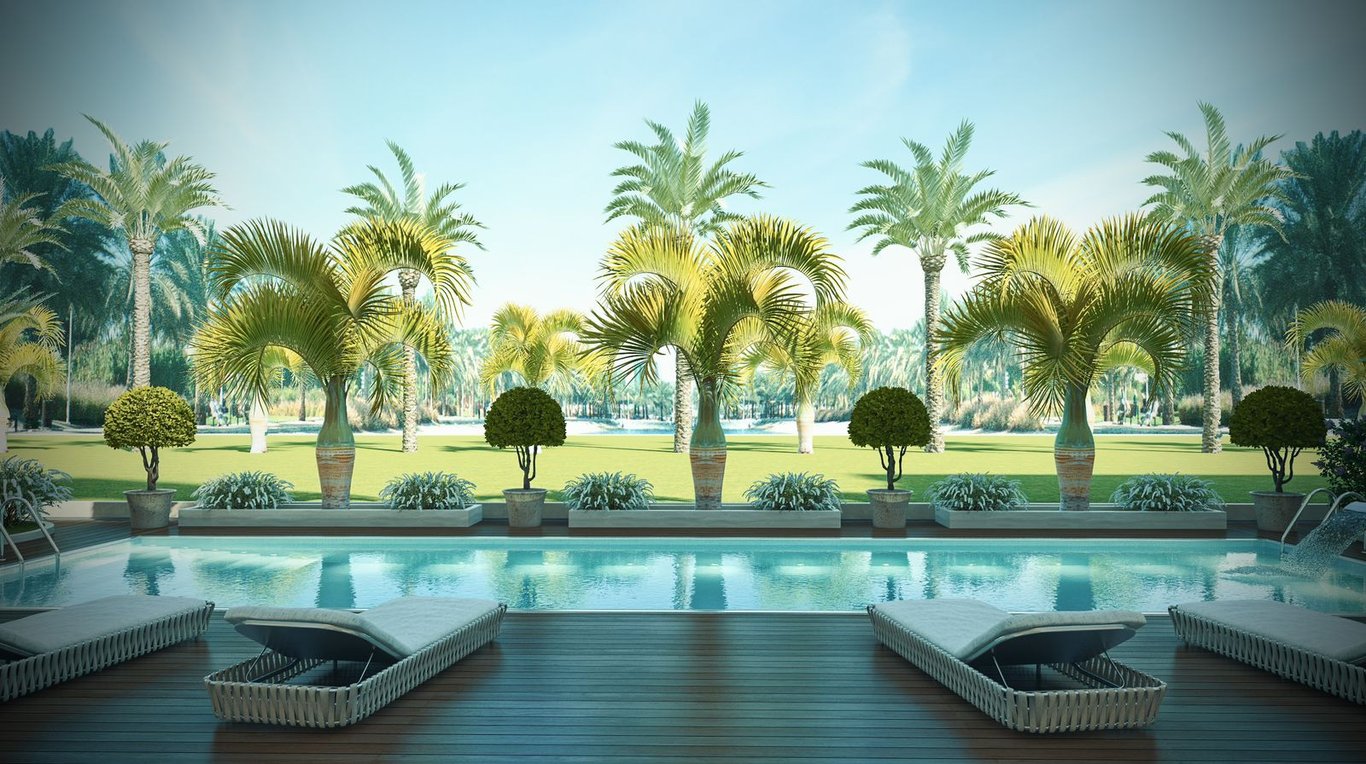 TOP LANDSCAPE CONTRACTOR IN DUBAI – LUXURY ANTONOVICH DESIGN
When it comes to landscape service in UAE,in there are very high standards when it comes to parameters, design, boundary walls height, and balance mood that enhances the beauty of the exterior and its concept. That is why consistency in style is also very important for every landscape in Dubai, as it also represents how professional the interior designers and architects which has been created the perfect mood of balance in all areas both indoors and outdoors. By bringing out the highest standards in every landscape design in Dubai, as well as the world's best landscape style, no doubt that Luxury Antonovich Design is always been recognized as the top landscape company in Dubai and all over the UAE. Garden landscaping is a great investment, enhancing the beauty and value of your property.
We are one of the leading landscape design company in Dubai, and our philosophy is to achieve beautiful gardens to add grandeur to your lifestyle. The quality of our projects, involvement, and creativity will help generate and maintain an astonishing green spot around your premises. The internal and external decorations are excellently executed by our team of skilled professionals.
SYSTEMATIC PROCESS IN LANDSCAPE ARCHITECTURAL WORKS
The first stage is the survey work, which includes a collection of baseline data and a comprehensive survey of the site. We study topography, soils, groundwater level, etc.
The second stage is a creation of a garden landscaping plan with the use of all data collected on the first stage. The following criteria determine the quality of the project:
Functional (reliability of structures, stability of plant growth to environmental conditions, etc.);
Aesthetic (appropriate to the needs of the customer, providing the artistic expressiveness of the object).
TOP-NOTCH LANDSCAPE COMPANY IN DUBAI AND ALL OVER UAE
At Luxury Antonovich Design, we pride ourselves on delivering premium landscape solutions to clients across Dubai and the UAE.
Passion for designing and building inspiring garden spaces and commitment to delivering results to our customers is at the heart of who we are, and what we do.
Our extensive portfolio demonstrates our ability to work with a variety of styles, whilst creating beautiful yet functional outdoor living spaces.
STRATEGIC PLANNING IN GARDEN DESIGN BY THE TOP LANDSCAPE CONTRACTOR IN DUBAI
The General Plan is the primary document. It identifies the existing and proposed plantings, buildings, structures, hard landscaping, road and path network, water devices, and other objects in the garden.
Strategic Planning – is an addition to the General Plan. It includes all retained and proposed plantings.
Road plan and path network, project engineering services, plan of ground leveling, and land reclamation areas (if required).
A well-designed garden landscape does not only meet the individual taste and needs but also adds value to the property. Ordering a landscape service from Luxury Antonovich Design Studio, you get layout drawings and plantings, etc.
LANDSCAPE PROFESSIONALS
Antonovich Group is a professional landscape contracting firm in Dubai that specializes in preserving and protecting outdoor spaces. They provide various services such as gardening, landscape maintenance, installation of seating areas, jacuzzis, pergolas, gazebos, fire pits, water features, wooden patios, outdoor living rooms, and swimming pool landscapes. They also offer hardscaping, automatic irrigation systems, soft landscape installation, landscape architecture, and landscape design. Antonovich Group's team of experienced professionals prioritizes customer requirements and dedicates their time, energy, and resources to create exceptional landscape designs that meet the needs of their clients, whether for new or existing developments.
LANDSCAPE SITTING AREA
GAZEBO
BARBECUE AREA
OUTDOOR LIGHTING
PARKING AREA
WATER FEATURE
Water features are a beautiful addition to any landscape design, providing a serene and relaxing atmosphere to any outdoor space. If you're looking to add a touch of tranquility to your garden, a water feature may be just what you need.
The Antonovich Group Water feature services for landscape design can offer a variety of options, from small fountains to large ponds and waterfalls. These features not only add visual interest to your yard but also have a number of practical benefits, such as helping to mask noise pollution and attracting wildlife.
When planning your water feature, it's important to consider factors such as location, size, and type. A professional water feature service can help guide you through the process and ensure that the design fits seamlessly into your overall landscape.
Here are some common water features to consider:
Fountains: Fountains are a classic choice for adding a water feature to your landscape design. They come in a variety of styles and sizes and can be customized to fit your specific tastes.
Ponds: A pond can be a beautiful and peaceful addition to any landscape design. Whether you opt for a small, simple pond or a larger, more complex design, the sound of water and the sight of fish swimming can create a relaxing environment.
Waterfalls: Waterfalls can add drama and movement to your landscape design, creating a focal point that draws the eye. They can be incorporated into a pond or built as a standalone feature.
Streams: A meandering stream can add a naturalistic touch to your landscape design, creating a sense of movement and flow. It can be combined with other water features for a truly stunning effect.
LANDSCAPE SEATING AREA
A well-designed outdoor sitting area can transform your backyard into an oasis of relaxation and comfort. At Antonovich Group, we specialize in landscape sitting area design services that provide exceptional outdoor living spaces. Whether you're looking for a small, intimate seating area or a large entertaining space, our professionals can help you create the perfect space that meets your unique needs. Our landscape sitting area design services begin with a consultation with our experienced professionals to discuss your specific requirements, lifestyle, and budget. Our designers take into account your preferences, the style of your home, and your outdoor space to create a customized plan that meets your needs and enhances the beauty of your landscape.
There are a wide range of materials and design options to choose from when creating an outdoor sitting area. Antonovich Group uses only the highest quality materials, including stone, brick, and wood, to create durable and long-lasting seating areas that can withstand the elements. We also take into consideration elements such as lighting, water features, and outdoor heating to make sure that your sitting area is both functional and inviting. One of the key factors in our landscape sitting area design services is ensuring that your outdoor space is as comfortable as possible. We offer a range of seating options, including benches, chairs, and sofas, that are both stylish and comfortable. We also incorporate accessories such as outdoor rugs, pillows, and cushions to add warmth and coziness to your space.
GAZEBO
An outdoor gazebo is a beautiful addition to any landscape, providing a space for relaxation, entertainment, and enjoyment of the outdoors. At Antonovich Group, we offer expert outdoor gazebo design services that can help you create the perfect space to meet your needs. Our gazebo design services begin with a consultation to discuss your vision for the space, including size, style, and materials. Our experienced professionals take into account your specific requirements, as well as the layout of your landscape and your budget, to create a customized design plan that meets your needs and enhances the beauty of your outdoor space.
Antonovich Group offer a variety of design and construction services, including custom gazebos, pre-built gazebos, and gazebo accessories. They also provide a wide range of materials to accommodate different styles, budgets, and color schemes. With their help, you can create a beautiful and functional outdoor space that will bring you and your family joy for years to come. So, if you're looking for quality craftsmanship and superior design services, look no further than Antonovich Group.
BARBECUE AREA
An outdoor barbecue area is a popular addition to any landscape, providing a space for entertaining and enjoying the outdoors with family and friends. At Antonovich Group, we specialize in providing expert services for designing and constructing outdoor barbecue areas that meet your specific needs and enhance the beauty of your landscape. Our services for outdoor barbecue areas begin with a consultation to discuss your vision for the space, including the size, style, and materials. Our experienced professionals take into account your specific requirements, as well as the layout of your landscape and your budget, to create a customized design plan that meets your needs and enhances the beauty of your outdoor space.
Our barbecue area services are not limited to the structure itself. We also take into consideration the surrounding elements, such as landscaping, lighting, and seating areas, to create a cohesive and beautiful outdoor space. We offer a range of seating options, including benches, chairs, and stools, that are both comfortable and stylish. We can also incorporate accessories such as outdoor rugs, pillows, and cushions to add warmth and coziness to your space. In addition, we can provide a range of features to make your outdoor barbecue area even more functional and enjoyable. These features can include built-in refrigerators, sinks, and storage areas, as well as outdoor lighting and heating options. We can also incorporate a range of cooking options, such as built-in grills, smokers, and pizza ovens, to meet your specific culinary needs.
At Antonovich Group, we take pride in delivering exceptional services for outdoor barbecue areas that enhance the beauty and functionality of your outdoor space. Contact us today to schedule a consultation and start creating the outdoor living space of your dreams.
PARKING AREA
Parking area layout and design is a critical elements of any construction project. As a leading architecture and design firm, Antonovich Group understands the importance of creating efficient and functional parking areas that meet the needs of both clients and end-users. The first step in creating a successful parking area is to determine the number of parking spaces required. This is based on the size of the building and the expected number of visitors or occupants. Once the number of spaces is established, the layout and design of the parking area can begin.
OUTDOOR LIGHTING
We take pride in delivering exceptional outdoor lighting services that exceed our client's expectations. Our team of experts ensures that every lighting design is tailored to the unique needs and requirements of our clients, providing customized solutions that enhance the beauty and functionality of their outdoor space. Whether it's a residential garden, commercial outdoor area, or public space, we have the expertise and experience to create stunning outdoor lighting solutions that transform the space.
Our outdoor lighting services also include the installation of energy-efficient lighting solutions. We use the latest LED technology and other energy-efficient lighting solutions to reduce energy consumption and minimize environmental impact. This not only reduces energy costs but also contributes to a more sustainable outdoor environment.
LANDSCAPING
We create Landscapes that upgrade our client's living experience and add a significant value to their assets.
Exterior Renovations
Construction
Outdoor Living Spaces
Hardscape & Patios
Custom Metal/Iron Work
Gardens & Plantings
Edible Landscaping
Pergolas, Cabanas, Decks
Pools/Spas/Water Features
Sports Courts
Property Maintenance
Mowing & Trimming
Stone + Brick Installation
Custom Shutters
Brick Paver Surfaces & Repairs
Bluestone & Flagstone Surfaces
Retaining Walls & Erosion Control
Cement & Stamped Concrete
Electrical Work
Drainage & Waterproofing
Irrigation
Fertilization
Organic Services
Outdoor Kitchens, Rooms, & Fire Features
Unique Annuals & Perennial Design
Outdoor Furniture, Pillars, & Pottery
Outdoor Decor & Special Event
Holiday Lighting
Fencing + Gates
INTERIORS
We provide top quality design and highly personalized service to create the most well implemented interiors for house proud clients.
Our services offer the following:


POOLS
Milestone builds luxurious bespoke Pools of different shapes, sizes and styles.
Interior Renovations
Full Interior Renovations
Interior Design Services
Kitchen & Bath Remodels
Lower Level + Basements
Custom Woodworking
Custom Cabinetry
Floor Covering & Radiant Heat
Window Treatments

Wall Treatments + Paint
Custom Drapery
Furniture & Staging
Lighting Design
Fire Features
Tile + Feature Walls
Demolition
Bench Seating + Cushions
Custom Shelving
Design + Layout Consultations
Fabric Selections
Color Coordination
Indoor Sports Arenas
Indoor Pools
Indoor Plants & Greenhouse
Custom Starlight Ceilings
Bars