Best Fit Out Company in Dubai - Fit Out Services for Villas, Apartments and Offices
Top fit-out firm in the UAE from E to Z
The company "Luxury Antonovich Design" as fit out company Dubai offers a full range of services in the field of construction, interior design, the design of offices, restaurants, hotels. Applying to our company, you will receive an author's design project. Each of our plans is developed individually without typical schemes and solutions. Working with us, you will have a future image of the interior in a photo-realistic image and technical documentation that will be required during construction or repair work.
We have assembled a team of specialists of the highest category who will be able to turn into reality the architectural solutions of any complexity, manage the entire project professionally, from the development and agreement of technical documentation to the object commissioning. The whole engineering and professional staff of the company have extensive experience, and high qualification in the field of engineering and construction and installation works, thanks to which our construction company provides a guarantee of quality performance of the tasks.
The main potential of the construction company "Luxury Antonovich Design" is concentrated in people — these are our employees, partners, and customers. Permanent professional growth and development of the company are achieved through the use of modern technologies, the introduction of new construction products. Our goal is to be the market leader. We increase the number of our projects and develop new ones. We have everything to achieve this goal: emerging markets, modern technologies, and highly motivated employees.
TIPS FOR CHOOSING THE RIGHT FIT-OUT COMPANY IN DUBAI
Interior fit-out and decoration is a large complex of repair and construction works, without which the whole interior design cannot be completed. Fit-out company in Dubai is a creative process that is why the result of all renovation and construction manipulations largely depends on the success of the interior design project.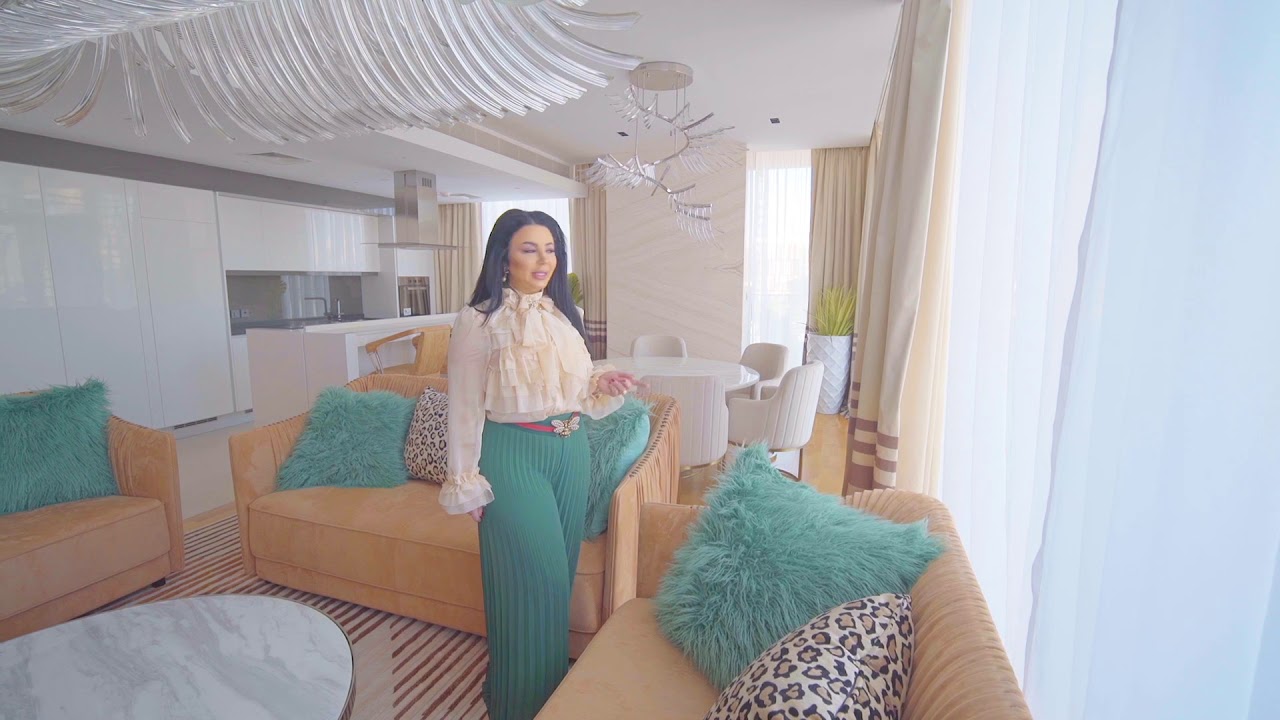 Luxury Antonovich Design Company provides a wide range of fit-out works in Dubai, both interior and exterior, in compliance with all European and world standards; we use the latest equipment, which allows us to give a guarantee for the work that we performed.
Luxury Antonovich Design staff includes more than 150 labor — among them 10 lead engineers, painters, plasterers, mosaic tile layers, electricians, plumbers, plasterboard installers, and many other narrow specialists with many years of experience. Each of them is a true professional in his craft and makes his internal fit-out work flawlessly.
PREMIUM SERVICES BY THE EXPERT INTERIOR FIT-OUT COMPANY
Complex interior fit-out works from Luxury Antonovich Design include the following areas:
wall preparation and topcoat application;

preparation and painting of ceilings;

suspended ceilings;

wall, ceiling, and floor decoration;

plastering and putting;

selection and wallpapering;

paint and painting services;

installation of drywall (plasterboard);

leveling screed;

plumbing works (installation of bathtubs, sanitary equipment, boilers);

electric installation work ( including air conditioners, heating and ventilation systems installation);

stone flooring (stone tile, stone slabs, natural pebbles, stone mosaic with different types of finishing stones — marble, granite, onyx, limestone, slate);

carpentry services;

tinsmith services;

parquet and wooden flooring;

decorative plasterwork and mosaics;

stucco and gypsum decoration;

woodworking;

window frames, doors, railings;

window glazing and painting;

decorative interior lighting and built-in ambient light;

roller shutters and security shutters;

home and commercial elevator installation.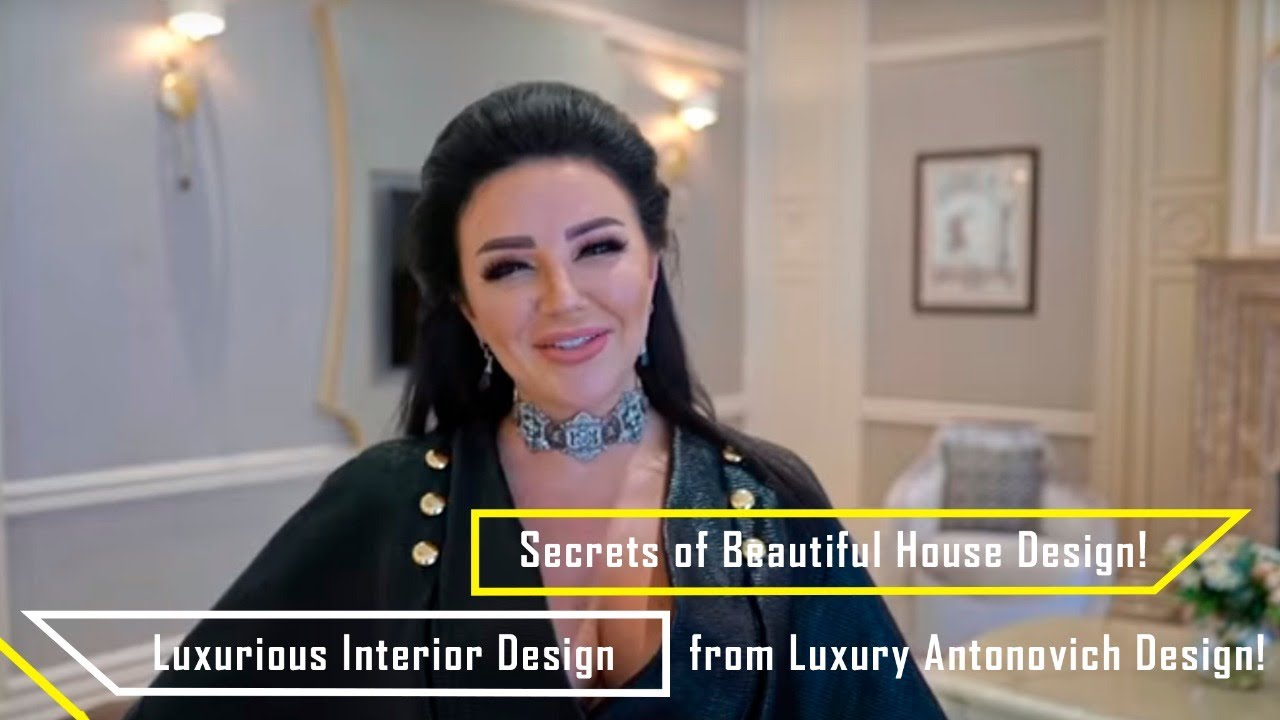 There are several types of renovation projects Luxury Antonovich Design Company works on in the residential sector:
Master bedroom and other family rooms remodel;
Kitchen remodels;
Bathroom remodels;
Home offices and cinemas;
Laundry rooms repair;
Finished basements;
Finished attics;
Swimming pool and gym fit-out;
Custom interior improvements.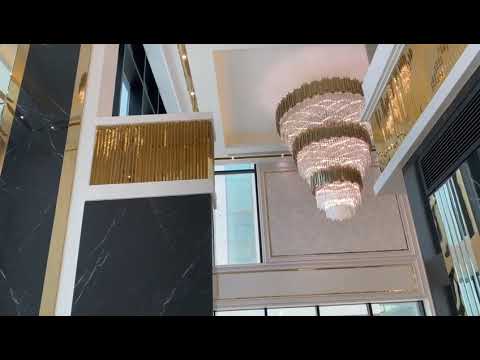 LUXURY ANTONOVICH DESIGN — THE BEST COMMERCIAL FIT-OUT COMPANY IN DUBAI
Luxury Antonovich Design specializes in commercial fit-out and office interior refurbishment projects in Dubai. The perception of the interior design of the premises directly depends on the quality of the fit-out works performed by the contractor. Internal office repair and fit-out tasks Dubai performed by our masters:
Installation and replacement of plumbing (Replacing the riser, installation of water supply, installation of water filters, sinks, toilets, and other plumbing equipment).
Plasterboard works (Installation of walls, ceilings, and plasterboard partitions, with which you can make an exciting re-planning of your office space).
Floor coverings (We provide first-class floor solutions. Our professionals install underfloor heating; install tiles made of marble and other stones, laminate, parquet, etc.).
Plaster works (All curved walls are leveled, cracks are removed, and plastering works of any complexity are carried out. We work with any finishing materials, liquid wallpaper, Venetian plaster, or other decorative plaster).
We help our customers to choose the right office design and interior fit-out that will fit the company. We make a complete estimate for the repair and fit-out works of the office, pay attention to the quality of building materials, and guarantee the professionalism of our team.
CREATING INTERIOR FIT-OUT WORKS THAT MEET YOUR STANDARDS
The most qualified and competent experts of Luxury Antonovich Design can provide you with fit-out works of any kind building up to the smallest detail. From the plastering, decorative plaster insulation, and sanitary ware, parquet or another type of flooring, gypsum works and wallpapering and painting, up to the great fit-out works that only most talented designers and decorators will work on: decorative wall panels — 3D wall panels, exquisite carved wooden ceiling, and walls, stained-glass, plastic and gypsum arts, interior wall painting and murals.
When it comes to interior design our company provides you with such services:
partial or complete interior design ideas, projects, and 3d visualizations;

functional space interior zoning;

reposition of space interior;

partial or complete high-quality furnishing;

service for the furniture selection and delivery;

new interior spaces and rooms creation;

reconstruction of bathrooms, lavatories, kitchens, terraces, and many more;

lighting projects;

sound system projects;

all kinds of fit-out work.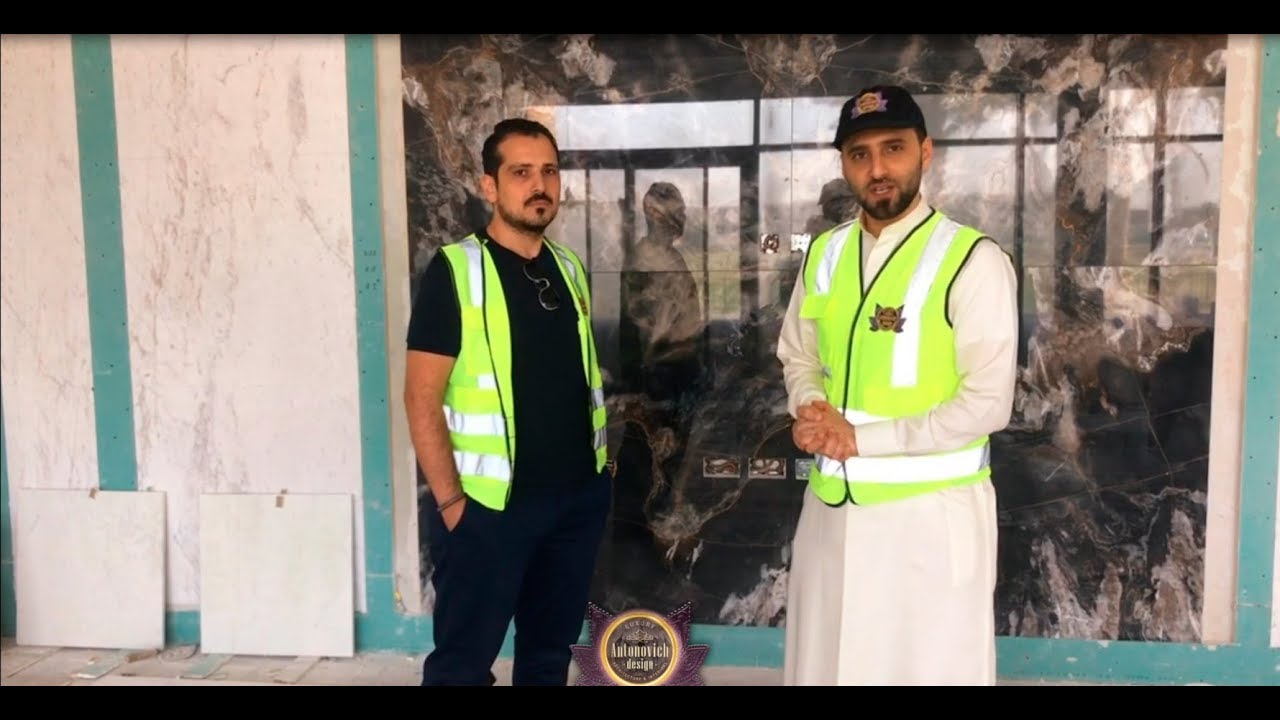 DEVELOPING A LUXURY FIT-OUT INTERIORS WITH GLOBAL STANDARDS
Luxury Antonovich Design — top fit-out company that can deliver a wide range of interior design and fit-out solutions can offer original creative design and architectural ideas and approaches for the development of the design project of your house, apartment, office, or any industrial giant with a full range of services for its implementation. We deliver beautiful interior and exterior fit-out projects for the best luxury brands, combining chic and exquisite style and stunning filling. Our team works in a wide variety of sectors, like high-end residential (villas, country houses), offices, boutique hotels, and restaurants, as well as clinics, sports stadiums, and airports.
Our advantages:
Luxury Antonovich Design employs only professional, qualified, polite, punctual, and executive repair technicians.

We work without intermediaries, which improves the process of creating the necessary result in the shortest possible time.

We make estimates as accurately as possible; advising the client at all stages of repair and fit-out works.

We purchase the highest quality building materials from proven European and global suppliers.

We adhere to all technical standards; comply with the deadlines previously agreed with the client.

We provide an individual approach to each client. Our team performs assigned tasks regardless of the season, coordinating the schedule with the house owner, taking into account his wishes and recommendations.
SELECTING THE RIGHT FURNITURE DESIGN ACCORDING TO YOUR INTERIOR CONCEPT
Luxury Antonovich Design Company provides services for the selection, purchase, and delivery of furniture. We cooperate with furniture manufacturers all over the world who can make high-quality furniture on an individual project. The foremost vital reason to work with us is that we select absolutely everything for the future interior: materials, furniture, doors, lamps, plumbing fixtures, curtains, and decor.
Proper furniture selection from Luxury Antonovich Design that will suit your requirements:
A professionally qualified architect develops the furniture layout plan.
You receive two-three quality options and can choose the one you like.
Furniture selection and delivery from Luxury Antonovich Design will allow you to save time and get the maximum result in the interior.
Ordering furniture from Luxury Antonovich Design, you get the best furniture pieces from the world's best furniture brands.
In consultation with our designer, you can choose the following types of furniture:
upholstered furniture for your interior (sofas, couches, armchairs, ottomans)

cabinet and built-in furniture (sets — bedrooms and living rooms, halls, children's bedrooms, libraries, dressing rooms)

kitchen furniture;

bathroom furniture;

office furniture;

and unique furniture — for swimming pools, saunas, and hammams, patios, and terraces;

gym equipment and professional saloon and clinics furniture and equipment;

hotel furniture.

The main potential of the construction company "Luxury Antonovich Design" is concentrated in people — these are our employees, partners, and customers. Permanent professional growth and development of the company are achieved through the use of modern technologies, the introduction of new construction products. Our goal is to be the market leader. We increase the number of our projects and develop new ones. We have everything to achieve this goal: developing markets, modern technologies, and highly motivated employees.
Turnkey Interior Solutions
Civil works

MEP works

Joinery

Stained glassworks

Aluminium & Glazing works

Fit-out

Landscaping, Pools & Water Features:

topographic survey,
sketch landscape design,
preparation of project drawings,
design of drainage systems, the design of watering,
design of lighting,
detailed flower garden plan,
preparing of 3D visualization.
Our task is to create a space for each customer corresponding to his lifestyle, character, and habits.
COMPLEX TURNKEY SOLUTION FOR APARTMENT FIT-OUT INTERIOR DESIGN
Luxury Antonovich Design offers a world-class solution towards apartment interior decoration and technical procedures in all sorts of concepts. From the systematic planning procedure in space scheming, Luxury Antonovich Design provides the highest standards of work with a great focus on handling each stage with a reasonable costing, integrity, and consistency that assures to accomplish the most satisfying turnkey design for the apartment. As the top architecture and interior Design Company, Luxury Antonovich Design believes that a well-designed apartment must not reflect the designer's abilities but be a reflection of the owner's personality and lifestyle that brings their dream home to reality. Over many years of consistent excellence towards work performances, Luxury Antonovich Design always manages to achieve every goal in every various apartment project. Luxury Antonovich Design performs a complex solution that brings every inspirational design, creativity, art knowledge, resources, and functionality into a harmonious blend to achieve the most desirable result for every apartment fit-out interior design.
PROJECT MANAGEMENT BY LUXURY ANTONOVICH DESIGN
Luxury Antonovich Design is composed of a high calibre team that has the full ability to perform world-class interior design solutions and development towards every apartment in all sorts of concept in Dubai and even international projects. Luxury Antonovich Design provides a complex turnkey solution that fulfils every requirement for the project management, engineering, architecture, design-build, and interior fit-out which is being accomplished with the highest standards of workmanship and expertise.
FIT-OUT AND TECHNICAL WORKS FOR APARTMENT INTERIOR DESIGN
Over many years of international services in architecture and interior design, Luxury Antonovich Design has been accomplished successfully apartment projects located in prime cities and elite properties ins side and outside UAE. Luxury Antonovich Design has its offices branches in Florida USA, Astana Kazakhstan and its head office in Dubai makes every client convenient to communicate and reach out with the project managers and interior designers of Luxury Antonovich Design. This multi-national company is undertaking turnkey fit-out services towards apartment interior design including Civil works, MEP works, Joinery, Stained glassworks, Aluminium & Glazing works, Fit-out, Landscaping, Pools & Water Feature
DESIGN IMPLEMENTATION AND FURNITURE INSTALLATION FOR APARTMENT INTERIOR DESIGN

This is the most awaited stage in developing the apartment interior design. In this stage finalization of interior design and production of furniture begin. As the top architecture and interior design Company, Luxury Antonovich Design also produces high-end luxury furniture as it has its own manufacturing and factory. It has indeed become one of the greatest advantages that the Luxury Antonovich Design is offering to every client. A complete hassle-free experience and cost efficiency, as the team always works with full of professionalism at the same time is ensuring to execute the highest standards that meet the global criteria. Indeed, Luxury Antonovich Design is the best architecture and interior design company that will absolutely bring out the finest turnkey solution for apartment fit-out execution with complete furniture services.
THE BEST TURNKEY OFFICE FIT-OUT EXECUTION
To bring out the most impressive interior design for an office is not just about making it looks nice but also achieving the most effective work for the organization. Luxury Antonovich Design has an in-house office fit-out specialist who has been very well experienced and skilled when it comes to the full development of office interior fit-out works. With its exceptional turnkey result towards every project execution, Luxury Antonovich Design is excellent architecture and interior fit-out Design Company that offers the finest turnkey solution towards office fit-out execution with complete furniture services. Over many years of expertise, Luxury Antonovich Design has been recognized as the leading interior fit-out contractor team in the Middle East. With its overall turnkey solution that covers architecture, engineering, planning, organizing executions up to the delivery process, Luxury Antonovich Design Team always assures to perform a world-class standard and quality of work to achieve the most concrete and tangible turnkey result for the entire fit-out execution. One of the major stages of work that is being conducted during the beginning of the project development for office interior design is the pre-construction method that includes the planning and design.
Conceptualizing design for the office fit-out interior is being conducted during the first steps of development. This procedure is being conducted in the most meticulous procedure to be able to elevate the atmosphere of the office interior. This will definitely increase the functionality and emphasize the product/services/facilities or whatever the business is offering. Enhancing the company's bottom line is vital that will absolutely bring out the most accurate efficiency and attractive design that represent the company and its workforce. Luxury Antonovich Design always manages to remain focus when it comes to great consideration in focusing with the workers benefit wherein, the Office fit-out the specialist will be conducting a space scheming layout that brings a perfect balance towards every office interior that will allow every employee to work more functional and efficient. Luxury Antonovich Design remains a focus on the wellbeing of every staff to be able to create a very calm and productive team. By prioritizing the people first, everything will surely come accordingly, moreover, employees that have their well-being complete always creates a very peaceful environment as it will give them an inner peace to work harder, always feel inspired during the work hours, be motivated to achieve a healthier and a happier atmosphere inside the office.
MAJOR STAGES OF WORK IN CONDUCTING TURNKEY OFFICE FIT-OUT EXECUTION
1. PROJECT COSTING – Luxury Antonovich Design offers cost management towards every client/ property owner and business owners in conducting development for their office fit-out execution. There will be a set of different modes of development programs enclosed with costing which is being converted into project contract ones that all parties agreed. It doesn't matter how big or small the office project is, Luxury Antonovich Design always works according to the specific budget according to the client's requirements. Luxury Antonovich Design always manages to update the client by submitting every detail of the cost planning proposal for approvals to be able to monitor if there will be any changes and updates that need to conduct.
2. PROJECT SCHEDULING – It is one of the greatest reputations of Luxury Antonovich Design to always meet the deadline towards every working procedure in every project. The agreement on timescales is being conducted upon the commencement of the office fit-out development. Every deadline in each stage is being been mention in the agreement/ contract which is being signed by the owner and all the concerned team. Luxury Antonovich Design always works full of professionalism and expertise to be able to accomplish every critical path and meet all the timescales. By identifying critical substances like IT infrastructure, phones, and broadband Luxury Antonovich Design ensure that the office fit-out execution will be up and running in plenty of time.
3. PROJECT MANAGEMENT – During the office fit out the execution, The project manager along with the architect, engineer and chief designer will be conducting the project supervision to oversee and set up to practical completion and beyond. This will assure that each stage of work is being conducted according to the timelines and design arrangement which is stated in the contract. Luxury Antonovich Design always does the update and reporting to the client about the onsite activities that are being monitored in all progress. The team manages to assess quality control by managing orders and evaluating any type of changes.
4. FURNITURE, DECORATION, AND MATERIALS – Luxury Antonovich Design was indeed your one-stop company that has the full ability to execute a complete turnkey office fit-out including furniture and decorations. As this multi-national, the company produces all sorts of furniture design in different types of concept. By presenting the three-dimensional design, each office interior is being presented along with the furniture and decoration setting according to the concept design as required. Each furniture and decoration in the 3D design is an actual piece that has been designed by the Luxury Antonovich Design production team. That means the client will achieve exactly according to the proposed design which has been presented by Luxury Antonovich Team. As it has its own manufacturing and factory for furniture which is being conducted by the most professional and expert production team as well as customized furniture design. For the final touches of elegance, Luxury Antonovich design is performing furniture delivery, installation, and fixing that will be representing as the final stage of turnkey design for office fit-out the execution with furniture.
CIVIL WORKS
Masonry, painting (art/texture), drywall/gypsum detailing, mosaic works, intricate marble works, etc.
MEP WORKS
Full engineering works with a specialty in chilled water systems. In-house electrical engineers and DEWA certified installation team.
JOINERY
Total carpentry solutions, reproduction of antique or branded furniture, and hand-carved furniture.
LANDSCAPING, POOLS AND WATER FEATURES
Construction teams for pools, fountains, and dedicated garden maintenance services.
STAINED GLASSWORKS
Master artisans available to create customized stained glass designs for your home or office.
ALUMINUM & GLAZING WORKS
Fit-Out
Perfect taste combined with the use of the latest trends of the industry is the signature handwriting of the interior design company "Luxury Antonovich Design". Timeless architecture and sophisticated design, performance on the contrast of styles, color solutions, and expressive textures always lead to maximum functionality of the object, as well as to its aesthetic completion.
Designers of the company create modern interiors, working in several stylistic directions: modern, art deco, classics. The main feature in the design is attention to the smallest details. The rare materials are used in work — valuable tree species, metal, natural stone, leather, glass, exclusive fabrics.
Our specialization is interior design and construction and finishing works. Our work is the mobilization of fantasies, ideas, and skill and the embodiment of your square meters into reality. We take care of that coziness, comfort, and functionality will be the three sacred rules of your house.
It is fitting out of interiors — a service for the integrated purchase and production of all interior elements — furniture, decor, decoration materials, painting, vertical landscaping systems.
We are engaged in the implementation of well-designed and thought-out design projects. If you completely decide to entrust your premises to us, then we will be able to visualize your space with a panoramic view.
You can buy wallpapers, decorative plaster, tiles, stucco decorations, frescoes, floor coverings, lighting systems, electrical fittings, sound-proof and acoustic materials in the interior design company "Luxury Antonovich Design". Our experienced specialists will help you to choose the required collection. The product range is constantly updated, which allows us to offer only the best samples from world-famous manufacturers. Representatives of our company will help to decorate any space properly, based on individual wishes.
Get free quotes
See how we can provide your premium furniture and solutions on-time and on-budget